Dimmable Energy Saving Low Energy C35 Halogen Lamps E14 Spot light bulb
Product Description
The details for C35 halogen bulbs:
1.Energy save 30%.
2.Instant 100% light, no warm-up time, 100% dimmable
3.Perfect color rendering (Ra=100).
4.Longer lifetime than incandescent bulb.
5.Average life of 2000 hours.
6.More lower price than ESL and LED.
7.UV filter
8.Applications: can be used in shop, hotel, indoor decorative and floor lighting. Home design lighting, and also can be uesd for factory.
9.Contains no mercury, can be thrown away with normal household waste
 The parameters for C35:
| | | | | | | | | | | |
| --- | --- | --- | --- | --- | --- | --- | --- | --- | --- | --- |
| Model | Watt(W) | Voltage(V) | Base | Color | Length(mm) | Dia.(mm) | Color Temp.(K) | Life Time(hours) | Lumen(lm) | Engergy Level |
| C35 | 18 | 110-240 | E14/E27/B22 | CLEAR/FROSTED/OPAL | 100 | 35 | 3000 | 2000 | 210 | C |
| C35 | 28 | 110-240 | E14/E27/B22 | CLEAR/FROSTED/OPAL | 100 | 35 | 3000 | 2000 | 370 | C |
| C35 | 42 | 110-240 | E14/E27/B22 | CLEAR/FROSTED/OPAL | 100 | 35 | 3000 | 2000 | 630 | C |
| C35 | 53 | 110-240 | E14/E27/B22 | CLEAR/FROSTED/OPAL | 100 | 35 | 3000 | 2000 | 840 | C |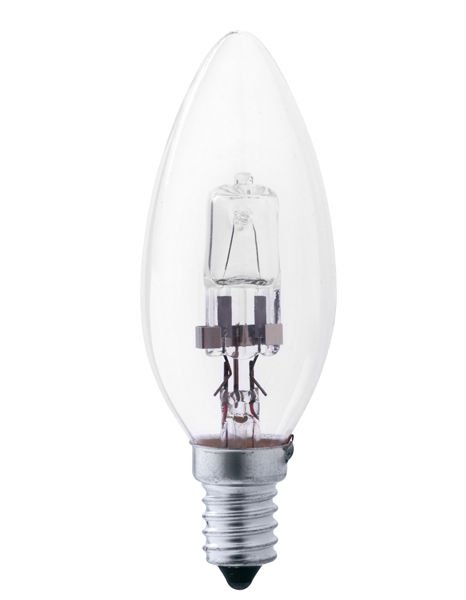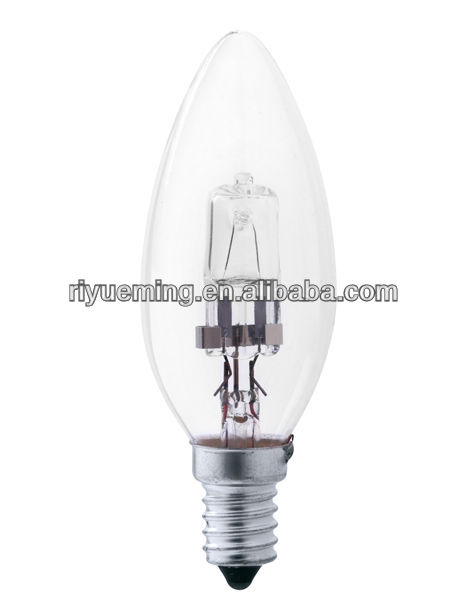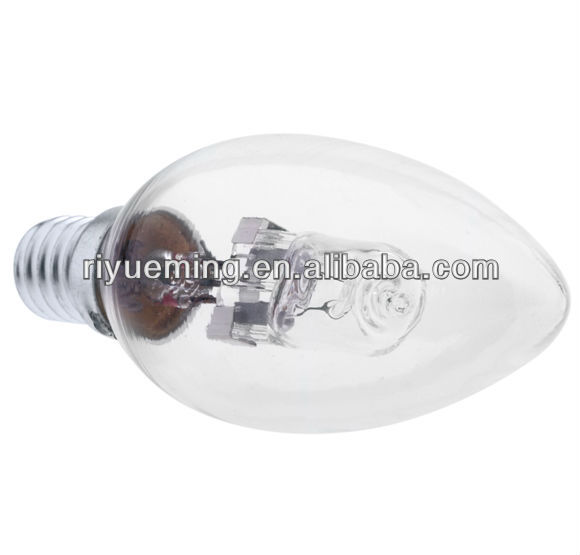 Product Categories : ECO Halogen Lamp